NPR's sites use cookies, similar tracking and storage technologies, and information about the device you use to access our sites (together, "cookies") to enhance your viewing, listening and user experience, personalize content, personalize messages from NPR's sponsors, provide social media features, and analyze NPR's traffic. This information is shared with social media, sponsorship, analytics, and other vendors or service providers. See details.
Meredith Talusan is a contributing editor of them. And an award-winning journalist and author. They have written features, essays, and opinion pieces for many publications, including The Guardian, The Atlantic, The Nation, Mic, and BuzzFeed News.
Meredith Talusan is an author and journalist. Her debut memoir, " Fairest," from which this essay has been adapted, is out now. The Times is committed to publishing a diversity of letters to.
Get to know Meredith Talusan, a fiercely intelligent Filipina-American writer and editor who encompasses an array of identities. Her work has been featured on The Guardian, VICE, BuzzFeed, Wired, and more. Learn about her thoughts on love, what she finds sexy, advice for LGBTQ+ youth, her chosen family, and more. Meredith Talusan. View Meredith Talusan's professional profile on LinkedIn. LinkedIn is the world's largest business network, helping professionals like Meredith Talusan discover inside connections to recommended. Meredith Talusan is an award-winning journalist and author. They have written features, essays, and opinion pieces for many publications, including The New York Times, The Guardian, The Atlantic, VICE, Matter, Backchannel, The Nation, and the American Prospect.
You may click on "Your Choices" below to learn about and use cookie management tools to limit use of cookies when you visit NPR's sites. You can adjust your cookie choices in those tools at any time. If you click "Agree and Continue" below, you acknowledge that your cookie choices in those tools will be respected and that you otherwise agree to the use of cookies on NPR's sites.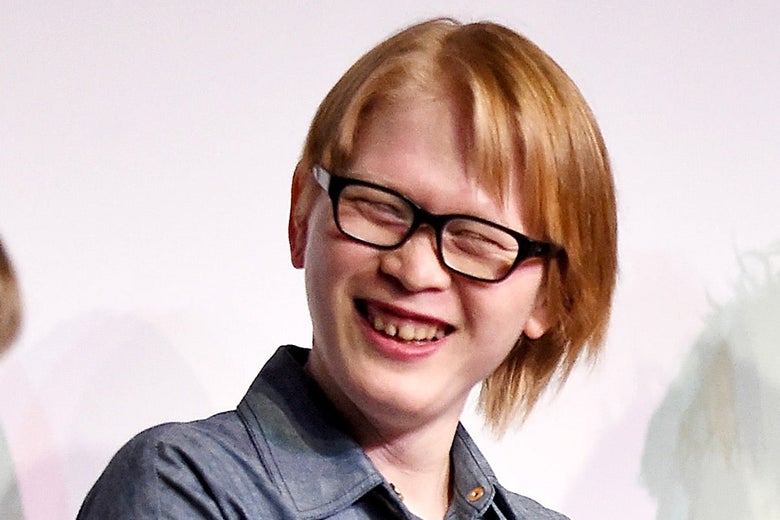 Though I have never met Meredith Talusan in person, she seemed, one Tuesday in late April over Zoom, familiar to me, like we'd been in conversation already for a long time. Perhaps it's because I'd just recently finished reading Fairest, her memoir. Perhaps it's because Fairest is written with that kind of wrenching honesty and unflinching self-evaluation—often just embryonic or gestural in most other memoirs—that engenders a feeling of quiet intimacy with the writer. Perhaps it's because her account of queer desire and trans longing felt adjacent to my own, as I am, like Talusan, a trans person who medically transitioned after graduating from Harvard. Her description of walking home, after a party, to her dorm down Mt. Auburn Street—wearing a dress in public for the first time—was a vertiginous aide-mémoire, returning me to the first time I wore boxers and a binder and a horrible pleather jacket, walking down Mt. Auburn Street, heading home by the same streets, a little more than a decade after Meredith did.
Fairest tracks transitions that aren't visually perceptible, but are narratively indelible: transitioning from a boy to a nonbinary trans-feminine person; moving from a small village in the Philippines to Harvard; being mistakenly perceived as white because she is albino; unlearning overvaluations of whiteness and the desire to be perceived as white.
Meredith Talusan Wedding
Over a quiet afternoon, we spoke about the tropes of trans memoir, recursive fantasy, the ethics of autobiographical representation, shame and narrative revision, and queer cruising.
INTERVIEWER
Your memoir felt radically different from any other trans memoir I've encountered. Why did you choose the Proust epigraph about being imprisoned in the wrong body, which is a longstanding trope of these memoirs?
TALUSAN
I was primarily interested in thinking about precedents, windows of existence around work that I've read before, with the understanding that different eras have had really different conceptions of gender. I was actually much more influenced, in certain ways, by James Baldwin, so I was looking for a Baldwin epigraph from Giovanni's Room, but his work is even worse when it comes to portraying trans people. I felt that contextualizing the work of the present within the understanding of how people have seen gender in the past was important. Especially in Sodom and Gomorrah, how tortured that relationship to gender is, how during that period of time there was a much greater overlap in peoples' conceptions of gender and sexuality. Where I come from, the Philippines, gender is contextualized in certain similar, though significantly less, phobic ways.
INTERVIEWER
As soon as I asked that question I thought, well, you're also working with familiar language, there's rhetorical continuity in your work with mid- and late-century American trans-feminine memoir. I'm thinking of books like Christine Jorgensen's A PersonalAutobiography and Reneé Richards's Second Serve, where language like "no longer a son," or "the man I used to be" was used. I don't see that anywhere now in contemporary memoir, other than in your book. What's at stake for you in that move?
TALUSAN
I have always been open about how my own trans experience was not one of assigned-gender denial. It dovetails into my specific cultural upbringing. I don't perceive myself as never having been a boy, or never having been a man. But I recognize that the rhetoric of "born a man" or "used to be a man" has been deployed by people, by anti-trans people, for a really long time. And the idea of the gender "one is meant to be" since birth has been such a vital element of medical gatekeeping around trans health care. There are reasons why, politically, it's been important for the trans community to adopt that language, and for people to believe that about themselves, whether consciously or unconsciously. One of my major goals writing the memoir—especially having spent a lot of time on political writing, writing op-eds about trans issues—was to situate it as me explaining myself to myself. Because so much trans memoir has been about explaining ourselves to cisgender audiences and justifying our existence. And I wasn't interested in that. I wanted to give myself the opportunity to be able to understand and situate my experience during those periods of my life with the person I am now. So the reader is positioned not as a person that I'm explaining myself to, but as an observer in my self-exploration.
INTERVIEWER
Another trope I'm always fascinated by are mirror scenes. There's a scene where you are at a Harvard reunion in 2017 and you're looking at the mirror, and after a moment you say, "the mirror was just a mirror now." And my first question was, when is that ever true? When is a mirror just a mirror? The mirror, not unlike the madeleine, allows you to explore narrative fantasy—by which I don't mean fantasy narratives, but the fantasy of a kind of narrative. What kinds of narratives did the mirror help you to access, in a phantasmic sense?
TALUSAN
I am somebody who is consistently perceived, as I move through the world, as a person with a history that I don't actually have. The mirror was a really good foil to describe that experience. I'm perceived as cisgender, which I'm not, native born, which I'm not, able-bodied, which I'm not, white, which I'm not. There's a way in which the mirror is a vehicle through which I'm able to face those two realities—the realities of perception, and the reality … not even of truth, because the fact of the matter is perception creates its own truth. So whatever you want to call that … antiperception. I was brought, really unwillingly, into my white-passing identity and into an identity that's not being perceived as Filipino, but often albino. I see mirrors everywhere. Whenever I see any person I often have to situate myself in relationship to them and the image that they're projecting because I am so many people at once. I am both white and not white, cis and trans, a woman with a male past that she's not disavowing, who now lives in a more indeterminately gendered space. I don't know where nonbinary gender exists, but it's not on one side or the other.
INTERVIEWER
I was struck by the scene in which you're arriving at Harvard for the first time and you take a cab from Logan Airport. When the driver asks where you're from, you describe a life that is not yours, but is your then fantasy—Santa Monica, a beach house, private school friends you'll meet at Harvard, a white mom and dad—a fantasy that you describe yourself creating for the cab driver's benefit as well as yours. Fairest deals a lot with regressions and declensions of fantasy, like what R.D. Laing does in Knots. I see you see my fantasy, I fantasize about your fantasization of me.
TALUSAN
There are a number of moments in the book where that happens. The one that I had the hardest time coming to terms with was the scene where I hire a Filipino sex worker to have sex with and then, in the middle, get lost in the fantasy of us both being Filipino boys together, then opening my eyes and realizing that the reality of my body would lead someone else to have a very different fantasy than the one I was having. Those moments were challenging to write, it was hard to be vulnerable enough to write that that is what I did. As a memoirist, to accept whatever you want to call them … mistakes in judgement, ways in which I've behaved that I wouldn't behave now, I hope, if I were put in similar situations. But in some ways, it wasn't particularly challenging to write about that regression of fantasy because it's such an enormous part of my life. All of my close relatives, including my grandmother, whom I was closest to, informed me, from my earliest memories, that I was going to grow up to be a white American person. My life now is in many ways a living projection of their fantasies.
INTERVIEWER
In the book you write, "I would have probably been bakla, had I remained in the Philippines." Bakla doesn't have a precise complement in Western gender taxonomies, but as I understand it, in the Philippines, it's a third gender, a category of folks who are assigned male at birth, but present as female. But bakla is not an identity you identify with in the book. It seems to me as well that you have an ambivalence about transness as an identity. I'm referring to the moment where you talk about Renée Richards and Christine Jorgensen as such a limited representation of transness that doesn't feel homey to you. Could you say a bit about what it's like to write about an identity that doesn't have the same kind of intelligibility for an audience mostly of white American readers? I'm thinking as well of Akwaeke Emezi's Freshwater, which focuses on an ogbanjie. Emezi has describedogbanje as "an Igbo spirit that's born into a human body, a kind of malevolent trickster, whose goal is to torment the human mother by dying unexpectedly only to return in the next child and do it all over again." Ogbanjie, rather than trans, more accurately frames the identity Emezi writes about. I was teaching Freshwater a few months ago, and all of my students were like, Cool this character's trans. No … and yes.
TALUSAN
In part, the project of writing the book was to be able to situate it as a narrative that defies a lot of those Western categories. And a lot of people are doing that work, not just me. I'm thinking of Cyrus Dunham, in addition to Akwaeke Emezi, or the work of Alok Vaid-Menon. When I call myself trans and when I identify as trans in a Western context, the fact is that I am trans, and a person who experienced medical transition. But I did not experience an antagonistic relationship with my body in ways that a lot of people describe. Or I've moved to a category where I don't feel comfortable identifying exclusively with a binary gender. Those challenges of categorization hopefully expand what trans means. Expanding how we conceive people's transitions. Hopefully the book can offer a sort of understanding of how transness can take on this incredible array of forms. What's really interesting is those limitations exist in the Philippines, too, but in different ways. In the Philippines, trans women who undergo surgery and are no longer discernible as third gender are, in certain ways, more marginalized and more oppressed than bakla, especially on the street, because they're perceived to be deceptive in ways that bakla are not. Also, it's still very challenging for trans women in the Philippines to be attracted to other women. The idea of a trans lesbian, for a Filipino constellation of gender and sexuality, is challenging.
INTERVIEWER
You came into your sexuality during the height of the AIDS crisis, and you write about walking down Eighth Avenue and seeing porn theaters. When so much of the book felt familiar to me, this moment felt rooted in a queer history I never experienced, remembering urban and public queer intimacies that once existed before the Disneyfication of Times Square. This is something Samuel Delany writes beautifully about, but something I rarely encounter from a trans perspective. Could you speak about this world of queer sexualities that has been lost?
TALUSAN
I do feel like, for me, the set of definitive texts around cruising in Times Square is Times Square Red Times Square Blue. I think it allowed me to situate my own fascination with whiteness during that period of my life as a fetish. I was culturally raised to believe in the superiority of European people, and so from that perspective, cruising culture was really important for me, having had sex with older men during that period and having had, in certain ways, a real form of queer mentorship that isn't as prevalent in the heterosexual world. But it was also important for me to own up to the fact that I didn't have sex with any people of color until after I transitioned. And I had opportunities to. Oh, yes! The fact that I just said I didn't have sex with any people who were not white, and yet I had sex with that sex worker … that fault of memory indicates something about my consciousness, how in certain ways I viewed that experience as a manifestation of the person I would have become had I stayed in the Philippines rather than the person that I was.
INTERVIEWER
When you talk about this book do you say I, or the speaker, or the character? How do you refer to this figure?
TALUSAN
Something in between something else, which has no—a term that doesn't exist. I want to be able to own those experiences and I want people understand that I experienced them, which is why the book is a memoir. Because it was written really novelistically, but I want the narrative to be evaluated as a personal narrative. You might disagree but I'm really antipathetic to Andrea Long Chu's review method for Jill Soloway's memoir, which evaluated the person's actions rather than evaluating the way that the person was situated in the narrative of their actions. We're not writing antipathetic reviews of Tess from Tess of the d'Urbervilles and her cluelessness, or Maggie Tulliver from Mill on the Floss and her fickleness. In the context of this narrative I was very careful to situate myself within the frame of mind that I was in during those moments, as I was experiencing them. Which necessarily means that in a lot of cases I feel differently about those experiences now and probably would have done something else today. So that's part of why I resist both me as a character and me as a person, because I feel like I'm in between. And also, while I've already dug myself into a hole by mentioning the Chu review, I also really deeply object to this notion that a memoir's flaw is the author telling on themselves. Because the memoirist's entire job is to expose inconvenient, difficult, tortured truths about themselves—otherwise one would just be left with a simple narrative in which the memoirist emerges as a character of virtue, and what does the reader get from that?
INTERVIEWER
How did you come up with the title? As you say in the book, there is "no such thing as a single fairest life."
TALUSAN
I am one of those people who needs a title in order to understand a piece of writing. I think I understood that the title had to coalesce as many of the elements of the book as possible, and I knew that it would be equally about being trans and about race. That was very important to me, even though I felt a lot of ambient pressure like, Oh, there's a lot of interest in trans stuff, just make it a trans memoir. I think that was how the idea of Fairest came to be. Oh, yes, there is this term in our culture that equates feminine beauty with whiteness and then, in the aftermath, realizing it is also about justice, about fairness, both in the interpersonal sense and in the broader sense.
INTERVIEWER
I know that I'm the first trans interviewer to interview you about this book. Is there a question that you want a trans interviewer to ask you?
TALUSAN
Maybe I'd want you to ask me how I hope the book will affect trans people. Maybe I want you to ask me that.
INTERVIEWER
I do want to know how you think it will affect trans people. I also want to know what you hope trans people will do with it.
Meredith Talusan And Josh Photos
TALUSAN
Meredith Talusan Husband
I've long perceived myself as not being quite of my time. I transitioned in 2002. I was transitioning in an environment where it was assumed that if you could be perceived as cis, you would go into stealth after you transitioned. I'm really curious about what young people, younger people, significantly younger—people who are post-transition and twenty years younger than me—how they would perceive this, because it's not necessarily a projection of their life, it's more of a projection of their life from a past generation. In terms of what people do with it, the thing that I find difficult to articulate, and is very difficult to articulate in general, in an American environment with such a strong ideology of individualism, is the simultaneous fact that one should be able to respect any person's self-conception while at the same time all of us need to be a lot more cognizant of the ways in which our environment shapes us. Which is something that I feel viscerally as somebody who comes from two very different cultural worlds. What's really interesting about being a writer is you get to spend time thinking to yourself, this is the story of my life, this is the story of how this happened. Then, you need to ask, is this how I really felt, is this how I really and truly conceive of myself? Whenever I'm writing a scene, the first way I usually write it is the way that corresponds to existing tropes of how such scenes are written. Its only in excavating the specific memories of what actually happened and the interaction between those factual elements of the story and the constellation of feelings that I'm having that I come to a more specific truth. And I feel like—I don't know if concerned is the right word, but I'm going to go out on a limb and say I believe that a lot of trans people … well, no, I can't believe that because I don't know thousands and thousands of trans people. I can only say that I can imagine, given that I had to write a whole book in order to figure out really specific aspects of my identity, I could imagine there are trans people out there who rely on existing tropes to describe their identities and experiences, when, upon self-examination, those tropes don't actually hold up. Their conceptions of themselves are more specific, idiosyncratic, and perhaps unique, than they themselves allow for at this moment.
RL Goldberg is a Ph.D. candidate in English and humanistic studies at Princeton.